The Hearing & Speech Center was founded in 1960. A small group of parents from the Lexington area approached Mr. and Mrs. Jimmy and Edie Frankel to ask for their assistance in establishing a program to teach speech skills to their children with hearing impairments. This was the beginning of the Lexington Deaf Oral School, later to become The Hearing & Speech Center.
Mr. Frankel, an architect and engineer who had been deaf since birth, and Mrs. Frankel, who had a hearing loss, dedicated their lives to active community participation for the hearing impaired. Fundraising efforts began. Building space was donated by Temple Adath Israel and a teacher was hired. The Lexington Deaf Oral School opened with six students. For nine years the Temple housed the Lexington Deaf Oral School.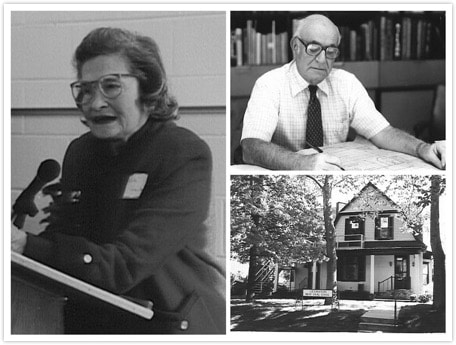 Successful fundraising efforts enabled the Board of Directors to purchase a house at 158 North Ashland Avenue in 1969. Due to continued growth, a brick addition was added to the back of that house with a multipurpose room on the first floor and classroom space on the second floor. This facility was dedicated in 1971. In 1978, the Board of Directors expanded programming to include additional audiological and speech/language pathology services for preschoolers and community clients. The name of the school was changed to the Lexington Hearing & Speech Center to better reflect the broader program.
The 1980's led to the acquisition of property on both sides of the first home. The Hearing & Speech Center property at 162 North Ashland Avenue was joined to the first house by a walk-through. In December 1985, the Center celebrated this expansion project as well as its 25th anniversary. In the spring of 1993, the Center grew again. The Board of Directors voted to establish day care services in the building located next door to the Frankel Building at 154 North Ashland Avenue. This led to the Day School Program. This program allows children with typical speech and hearing development to attend.
In 2011, LHSC moved from the houses on North Ashland Avenue to the 70,000 square-foot brick school on Henry Clay Boulevard (formerly J.R. Ewan Elementary School). This new facility has supported the continued growth and expansion within all programs. LHSC looks forward to a future of continued dedication to excellence, as it follows the examples of its founders, Edie and Jimmy Frankel.
In 2020, in an effort to honor everyone served by the organization, the decision was made to change the name to The Hearing & Speech Center. The Hearing & Speech Center is proud to support individuals and families from over 70 Kentucky counties. The updated name and logo represent The Hearing & Speech Center's commitment to all Kentuckians.
Board & Leadership Staff
Board Executive Committee
Jason Taylor, Chair, Equity Management Group
Kyle Virgin, Treasurer and Secretary, McBrayer
Mary Beth Wright, Building Committee, Messer Construction
Buddy Schneider, Immediate Past Chair, Traditional Bank
Marcey Ansley, HSC Executive Director, Ex-Officio
Board Members
Caleb Davis, Lexmark
Morgan Hall, Kentucky Justice & Public Safety Cabinet
Kenneth Iverson, M.D., University of Kentucky HealthCare
Sarah Hawkins Lear, Ed.D., University of Kentucky
Polina Nikolova, Dean Dorton, Ford, IT
Tiffany Pickett, Traditional Bank
Rob Ruddick, Republic Bank
Anetha Sanford, Homebuilders Association of Kentucky
Kim Thiel, Traditional Bank
Steve Wolf, Lockmasters, Inc.
Ryan Worthen, KEMI
Meet Our Audiologists
Meet Our Speech Therapists
Contact Us Today!
To request an appointment or to connect with our team, please complete the form below. Our team will contact you during our regular business hours. For a medical emergency, please call 911.