Hearing aids consist of four main parts: a microphone, which picks up sounds in your environment; a processor, which amplifies sounds to a level the wearer can easily hear; a receiver, which delivers the amplified sounds to the ears; and a battery, which powers the device. Below we review everything you need to know about hearing aid batteries.
Types of Hearing Aid Batteries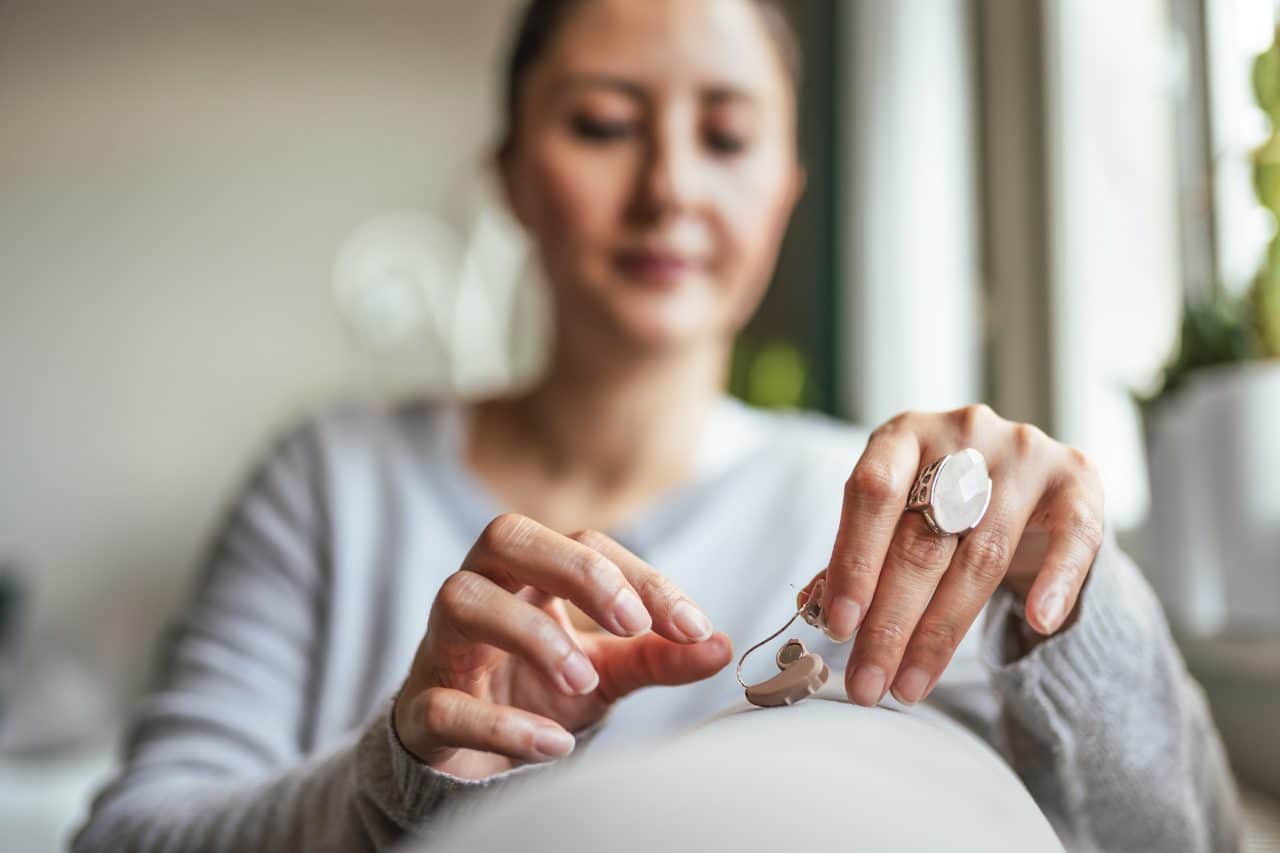 There are two types of hearing aid batteries: disposable and rechargeable.
Most disposable batteries are zinc-air batteries, which activate when you remove the seal from the back of the battery. This is why you should never unpackage your batteries until you're ready to use them. The lifespan of disposable batteries depends on the size.
It's important to store and dispose of disposable batteries safely to avoid them getting accidentally ingested or polluting the environment. You can dispose of hearing aid batteries somewhere such as Louisville Metro Recycling Center.
Rechargeable batteries are becoming increasingly popular. This type of battery is usually lithium-ion and built into the device. The battery is charged by docking the hearing aids in a case or on a charger overnight.
Hearing Aid Battery Sizes
Disposable hearing aid batteries usually come in the following sizes:
Size 10 (yellow). This is the smallest battery size, which powers completely-in-canal (CIC) and in-the-canal (ITC) devices.
Size 312 (brown). This is the next size up, which powers receiver-in-the-ear (RITE), receiver-in-the-canal (RIC) and in-the-ear (ITE) devices.
Size 13 (orange). This size battery powers ITEs and behind-the-ear (BTE) devices.
Size 675 (blue). This is the largest battery size, which powers BTEs.
Hearing Aid Battery Lifespan
The lifespan of the battery depends on the type and size, as well as hearing aid usage.
Disposable batteries' lifespans range from three days to three weeks and can be broken down as follows:
Size 10 (yellow): 3-7 days.
Size 312 (brown): 3-10 days.
Size 13 (orange): 6-14 days.
Size 675 (blue): 9-20 days.
Most manufacturers of rechargeable hearing aids boast battery lives as long as 20-30 continuous hours, though realistically these types of hearing aids should be charged every night.
The batteries themselves last about four to five years – about as long as the actual device's lifespan. Most people opt to upgrade their entire device once the battery is worn out.
Should You Get Rechargeable Batteries?
The choice between a device that takes a disposable battery versus one that takes a rechargeable battery is one that should be made between you and your audiologist. They can help weigh the pros and cons and select a device that's perfect for your hearing and lifestyle needs. For more information or to schedule an appointment, call The Hearing & Speech Center today.