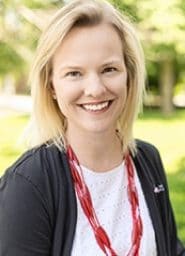 Megan Brown
M.S., CCC/SLP, LSLS, Cert AVT
Megan Blandford Brown attended the University of Louisville where she earned her M.S. in Communicative Disorders. She has over 15 years of experience in working with children, ages 6 months to 16 years with a variety of speech/language delays/disorders in individual, group and classroom settings. She has received continuing education in the areas of auditory verbal therapy and applied behavior analysis. She is currently working on her certification in auditory verbal therapy.
Megan feels blessed to be a part of the team at The Hearing & Speech Center (HSC) team as a volunteer, teaching assistant, speech/language pathologist and parent of 3 graduates for the past 20 years. She enjoys growing and working with a team that allows her to collaborate closely with families, teachers and other professionals to ensure children learn to listen and communicate their wants and needs effectively across all environments.